4-H Youth Development
The 4-H year begins October 1 and ends September 30 of the following year.
4H New Enrollment Brochure
Re-Enrollment Brochure
4-H Club Leaders/Officers Resources
Information on Discovery Days, Citizenship, and more on our 4H> Event page
---

We would love to have you as a Volunteer Project Leader! Do you have a knowledge you could share with youth? If you would like to be a 4-H Volunteer Project Leader in your county, contact your local extension office. Project Leaders may have from 1 to many meetings to help instruct members.
**Updated Oct 2019: Member/Parent 2019 Code of Conduct
**Updated Oct 2019: Volunteer 2019 Code of Conduct
(Note) If these do not open properly in your browser, use Google Chrome browser.
---
Start Snapping! Take part in the Sunflower District 4-H Photo Challenge
This week - take a photo of your favorite animal. Be as creative as you want to be! You do not need to be enrolled in this project to participate.
Want to learn more about taking photos of animals? Check out these websites ...
· https://4-h.org/wp-conte…/…/2016/02/Taking-a-Great-Photo.pdf
· https://www.creativelive.com/blog/pet-photography-tips/
· https://www.nikonevents.com/us/live/nikon-school-online/ (Fundamentals of Photography and others - you have to create an account - courses are free because of COVID-19)
4-H Connected Families and Alumni:
· Each Friday through May 22 we will give you a new photo challenge topic.
· Take pictures and send your best ONE to karennelson@ksu.edu with your name and county and designate youth or adult division.
· You have until Thursday at 12:00 PM (CT) to submit photos.
· On Friday morning contestant photos will be uploaded to albums and posted on all 3 county 4-H Facebook pages.
· Vote for your favorite photo by liking it on any of the 3 FB pages.
· Voting closes on Monday morning at 9 AM (CT) and the 2 photos with the most votes will be announced
---
Click Images for larger view
June 22 - July 10 - Each Mon, Weds, Friday by ZOOM
$30/sign up by June 8th for materials Registration Here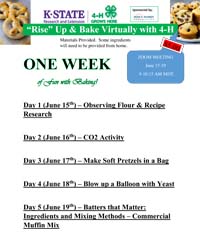 JUNE 15-19 Rise Up and Bake Virtual Camp Sign Up
---
Calendar