Record Forms
Enrollment
In October each year or for all New Members: Counties require these to be turned in by Nov.1
Two forms are needed the beginning of each 4H year.
All members will enroll online, here is the link: 4H Enrollment
If you attend any 4-H events you will need to complete 4-H participation Form
---
Record Books Keeping Kansas 4-H Project Record Report Forms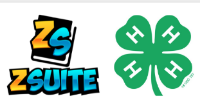 Click photo or Log in here for ONLINE: ZBooks
How to update your Adobe reader for fillable forms below
The new Permanent Record will be required for 2020-21 record books
Two ways: ZSuite is online or forms below.
Click here for More Information
---
Membership Pin Awards
Sherman County does not require permanent record pages on membership pins. Only current year records required.
---
Scholarships Applications
---
Project/Club Leaders/Volunteers Forms
Volunteer resources:
2021 Fall Volunteer Training Event Series
Club Officer and Leaders Resources